Ok So this summer I am putting all my efforts into getting out of debt. I want to pay off all my credit cards and loans if I can. The total is somewhere near 7 grand I think spread out over a few cards. Lots of trips here and there. So with that in mind. I want to start the SUPER SKETCH PUSH!!!! Seeing as I can knock sketches out super fast this should be ok. I've run into trouble in the past over loading myself with full color works. SO if you got 25 bucks to spare and want something sketched up and I mean anything. I once drew a macaroni and cheese monster, I will draw it up for you. Just tell me what you want.
If you really want something colored you can talk to me after the sketch is done and I'll see how I can fit that in. Thanks ahead of time and I can't wait to see what you people will have me draw.
So a sketch would be $25 --
-this includes what ever you want in it basically. A detailed sketch.
To color the sketch add $25 --
Add $25 for colors for each person more than one and or a background. --
2 changes if not satisfied for free Add $10 for extreme changes after that due to complications.
Click this stamp below for a paypal easy way to pay me.
~
saintpepsi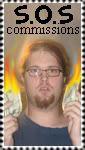 ~
saintpepsi
Will accept other forms of money too -money order, check, western union i think... you get the picture.
Also if you feel randomly compelled my Wish list is below. But I'd rather have commissions so I can get down to getting rid of that debt.
~
saintpepsi

~
saintpepsi
Check in on this at this link -->
[link]
Was featured for a company that sells sketchbooks
[link]
Come along and bring friends
pepsi
~
saintpepsi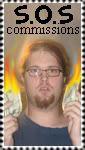 ~
saintpepsi

~
saintpepsi